About Museum
The Museum consists of two parts. The author's house and newly built museum, opend in the 1st, Nov, 2001.
You can walk around the garden and see the author's study from outside. The author worked here until his death, 12th, Feb, 1996.
You proceed to the new part through the curving glass corridor. Inside, at first glance you will be fascinated by the huge bookshelf (11meters high) with 20,000 books.
Researching these books the author wrote about 500 historical novels, essays, critical essays and many other works. We regard this area as "his another study". Please sit on the chair looking up at the wall of books and feel the author's spirit.
The new building was designed by Ando Tadao, a famous Japanese architect, to show the creative world of Shiba Ryotaro.
Address
3chome 11-18, Shimokosaka, Higashiosaka-shi, Osaka
Tel 06-6726-3860 Fax 06-6726-3856
Hours
10:00am - 5:00pm
Holidays
Mondays.
(When monday is national holiday, the museum closes on the following tuesday.)
1 September - 10 September, 28 December - 4 January

Admission
Discounts20%
over20
Adults, Univ. students
500Yen
High/Middle school students
300Yen
Elementary school students
200Yen
Photos, mobile phones, drink and eat are prohibited inside.
We appreciate your cooperation.
About Shiba Ryotaro (1923-1996)
He is one of Japan's best-known and loved authors, famous for his lively and insightful portrayals of historic personalities and events.
He wrote a lot of historical novels and essays. Those are still read widely.
His Main works
"Ryoma ga yuku", "Sakanoue no kumo", "Kaidou wo yuku", "Kukai no fukei", "Nanohana no oki" etc.
Books translated into English
"The Last shogun", "Kukai the Universal", "To you who live in the 21st century", "Clouds above the Hill" etc.
About Public Interest Foundation Corporation
Established 1st, Nov, 1996.To convey the author's works and contribute to the culture of Japan we proceed many programs. This museum is one of our activities.
We deeply appreciate you if we can get your support.
About Architecture
This museum was designed by AndoTadao. Its appearance is well harmonized with the surrounding landscape.
Total site area (including a home) : about 2600 square meter
Site area : about 1000 square meter
Construction area : about 450 square meter
Total floor area : about 1000 square meter
Rank : Two-story building from basement
Structure : reinforced concrete
Design : Tadao Ando Architect &Associates
Construction : Ltd.Zenidakagumi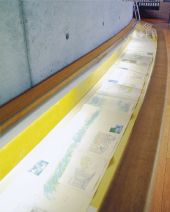 You can see many sketches and drawings by AndoTadao, and also photos of building process.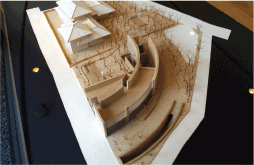 It is a model of one-hundredth of this museum. Every detail is made to elaborate.
(made by Tadao Ando Architect & Associates)